Will Hirons
Sure-Track
Starting out with a career as a mechanical engineer Will Hirons progressed onto a technical ONC certificate holder. He went on to work with a number of GSM network providers to co-develop the first ever video over the GSM network in 1995. After gaining experience in the GSM world, Will created a business called Cellular vision which sold video over mobile phone networks to emergency services including the ambulance services and the Railway industry. After a couple of years Will changed his focus to GSM location based services and launched the company BOSS monitoring the first GSM active tracking systems in the UK. BOSS achieved a national contract to supply Ford Motor company across the UK with vehicle recovery tracking devices. The company then floated successfully on the AIM stock market changing its name to Sure-Track

Sure-Track have been successfully operating for over 12 years supplying both Asset Recovery & Fleet Management products to the tracking market and are the only tracking company recognised by NCASS.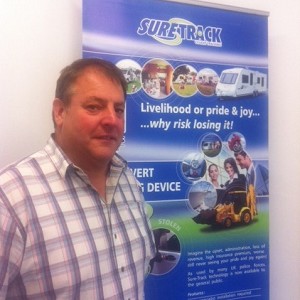 Protecting & improving your business with tracking technology.
In the first half we will be focusing on the devastating effect theft can have on your business. We want to encourage people to be proactive and protect their business rather than expose themselves to the ugly world of theft. In the second half of the seminar we will be talking about our fleet monitoring product and the huge benefits to takeaway business of tracking their delivery vehicles.
EVEN MORE SEMINARS