Jack Hollands
Signwriting Jack
Jack Hollands is the young man behind Signwriting Jack. His rare skills have been attained and nurtured, thanks to a global network that is keeping the craft of signwriting alive. Recent years have seen a boom of interest and appreciation for gold leaf signage. This is the main focus of his output and energy. He has recently been working on projects in Australia, collaborating with other contemporaries in the field. Since his return to England this year he has been commissioned by several restaurant's around the country, from his hub in London, to embellish their windows with gold leaf. With his Graphic Design degree Jack gives a modern edge to businesses, whilst using ancient gold leaf techniques. Also adding his own twist and take on things. His philosophy is to add a human touch to signs whilst maintaining the highest levels of quality.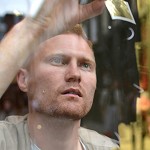 The Impact of Alluring Gold Leaf Signage
Come along for a passionate discussion about gold leaf signage. Hear about its' traditional past, and why it's never gone out of fashion. Learn why gold leaf signs are still made by hand and have escaped means of mechanical or industrialised mass production. Be inspired by the meticulous craft of gold leaf signwriting on glass, and get to meet one craftsman who is helping to shape its' future.
EVEN MORE SEMINARS