Frances Bromley
Scabetti
Frances Bromley and her husband Dominic are the creative force behind the British brand Scabetti. Acclaimed for their art installations featuring English fine bone china.

Frances met Dominic while they trained in Industrial Design at Brunel University. After graduation and PhD academic study into Artificial Neural Networks, Frances went on to work for corporate giants, Hasbro and FremantleMedia, working in multidisciplinary fields ranging from R&D, Engineering, Marketing and Licensing.

In 2004, Frances brought this varied experience to the business Dominic had begun in 1999. The two of them now live and work alongside each other, creating unique collections and responding to custom briefs from architects and interior desi ners worldwide.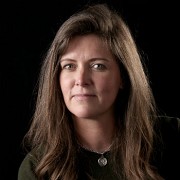 Creating an impact with sculpture and light.
When you go for an interview they say it's the first few seconds that count. Think about the effect of your décor on your clientele as they enter your establishment for the first time. How investment in just one feature piece can make all the difference. Frances will share examples of how lit sculpture can create that memorable statement piece impact.
EVEN MORE SEMINARS