The Drinks Zone
Raise a toast for the Drink Zone, an area completely dedicated to the most innovative suppliers of drinks technology and services. Across the event's two days, this section of the show will be home to some of the most cutting edge and inspiring concepts and developments in drinks products and supplies.
Among the numerous exhibitors on show will be leading suppliers of drinks machinery and vending machines, including Allied Drink Systems, who will provide examples of their fantastic range of hot drinks, snacks, cold drinks, vending machines, catering equipment, and vending products; and Connect Vending, specialists in machines that seamlessly fit into any business or personal environment.
Innovation in design is a constant in the Drink Zone, and this is highlighted by FoamAroma, whose ingenuity allows coffee lovers a better sensory experience; and CanO Water, the innovative water brand that comes in sustainable packaging.
Elsewhere there are exhibitors showcasing their innovative health drinks, such as MangaJo's detoxing iced teas; Amazing Forest, whose products offer a healthy and natural experience, including their organic Birch Water drink; and Nari Palm Juice, an Africa-inspired lifestyle brand.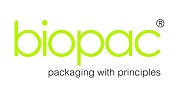 ABOUT THE SPONSOR
Biopac is the UK's leading developer and supplier of eco friendly food packaging and catering disposables. Our biodegradable packaging is the preferred choice for hundreds of restaurants, delis, takeaways, cafes, streetfood traders, caterers and coffee shops. More and more businesses are seeing the benefits of being able to demonstrate their deep commitment to the environment. Customers demand it and now it's affordable.
We're constantly developing new products - Our Compostable Sugarcane Boxes for instance are a big hit with Takeaway and Streetfood traders as they absorb condensation preventing food from sweating and going soggy, unlike with polystyrene. It's just one of the ways Biopac can help give your business an advantage on your competitors.