STAND NUMBER: 9066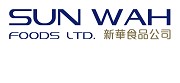 SUN WAH FOODS LTD
The TASTIEST chilli oil you will ever try. Flavoursome!

Our mission is to make certain, bland food can always be salvaged. By creating a chilli oil that not only depicts spice, but enables one to feel content when eating a meal.

Chillies should be enjoyed in dosable amounts, since they are good for you anyway, but it doesn't mean for you to man up and head straight for the hottest chilli sauce... how will you appreciate the rest of your dinner?

The Sun Wah Chilli Oils provides a unique blend of chillies, oil, garlic, and shrimps infused together for a nice balance of spice and taste.

We use mild red chillies, which does not completely overpower your food, and as a result allows you to absorb all the flavours.

It's not all about the spice, it's all about the flavour for us!


07763609998