STAND NUMBER: 2030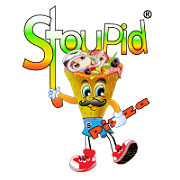 Stoupid UK Ltd
STOUPID pizza .. A new pizza type where the topping is inside instead of outside.. Like superman who wears his underpants on the outside...

STOUPID pizza has its toppings on the inside... Nobody would dare call Superman STOUPID... Would they ?

This STOUPID pizza is a super pizza.. filling on the inside... so it wont fall out .. flavour on the outside and inside... Double flavour .. Great flavour..

Tell you more when you visit us on the stand.

So whats the deal , I hear you muttering... Simple...

Your start up package will include

Stoupid Formers
Stoupid Cutter
Stoupid Oven Carrier
Weighing Scales
Silicone Brush
Flavour Dusters

Projected Sign
A board
Window Stickers
Posters
Banners
Customised 5000 A5 Flyers

T Shirts
Caps
Badges

We will promote you on our STOUPID website as a new family member of STOUPID...

You will gain access to all the training videos and if you require personal coaching is also available at a nominal cost at our Head Office in the Midlands.

A loyalty app is in the process of being launched mid November by our partners. This app will only feature two items STOUPID and QUINKEE. There is a monthly fee payable to our partners. This is an additional service if you wish to join and are no way obligated to join as part of STOUPID or QUINKEE.

What is it going to cost me ?...Joining fee... of £ 600 inclusive of VAT... which for this exhibition is reduced to £ 300 including VAT.

Half price if you join up in the Exhibition.

There is a recurring yearly fee of £ 150 including vat.

The contract period is 2 years.