STAND NUMBER: 2236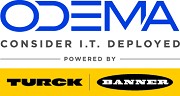 Odema Ltd
Odema is one of the UKs leading IT support suppliers, relied upon by some of the biggest names in the sector to deliver cutting edge EPOS solutions. Odema has over 10 years experience in every aspect of IT technology to ensure that's its customers meet current and future demands in this fast moving environment.
We are delighted to showcase our PCI accreditation so we can offer customers point to point encryption to reduce the risk of fraud attacks and data breaches. We will be demonstrating the highly regarded Powermat wireless charging solution ideal for restaurant and the hospitality business. As a leader in the sector, the Powermat solution will maximise customer engagement , increase revenue and maximise footfall.

We are jointly hosting our stand with Turck Banner - established in 1990 and highly regarded for innovative products and responsiveness to customer needs they are the perfect fit. Turck Banner are collaborating with us on a number of innovative product developments which will be demonstrated on our stand.