STAND NUMBER: 222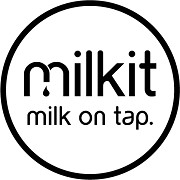 Milkit Ltd.
Milkit is an innovative, original & exciting patented milk tap solution
designed for the hospitality industry.
The principle is simple - A large environmentally friendly package is connected to an electric tap that implements an easy, clean and efficient work environment.
MoneySaver-Pour the exact amount of milk that you need, enable recycle of boiled milk and reduce your various secondary damages
Time Saver- Save up to 20% in the preparation time of every coffee cup
Save up to 20% in the preparation time of every coffee cup
Energy Saver- Decrease waste production of energy; as well as deterioration and disintegration of equipment.

Milkit is currently installed in Israel , Czech republic and Greece and We are on the verge of signing agreements in the UK , Denmark , Austria and Mexico. We are operating in more than 20 chains , dozens of private coffee shops , hotels . Restaurants and many more.

MILKIT is the new way to consume milk in the food service industry. We created a concept that made using milk in a faster, cleaner, economical and environmentally friendly way than it is today.
MILKIT is a game changer for milk consumers.
For more info visit us on www.milikit.co.il
.
We would love to hear from you.






+972-52-8077747