STAND NUMBER: 1762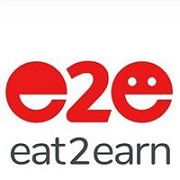 Eat to Earn Ltd (eat2earn)
e2e - we share our profits with takeaways and customers

The Opportunity

Almost £20,000 is spent on takeaway food in the UK per minute, and this is expected to grow over the next few years. With more than 56,000 restaurants and takeaways offering consumers a wide choice of cuisine styles, the takeaway food business has never been so popular.

Mobile technology has helped drive growth and food businesses have been quick to adopt online and app-based services that make it easy for consumers to place and pay for orders.

Challenges

While apps are helping to drive growth, greater choice means consumers are likely to be more flighty and will order from whatever app they happen to open and from whatever takeaway that pops up first or offers the greatest discount.

The cost of being part of these services is also hurting the bottom line for many takeaways.

This prompted Akki Ahmed to search for a solution.

Akki has been involved in the catering industry for the past 25 years and has seen and experienced the difficulties facing the industry first-hand.

A radical rethink in the way app and online-based ordering systems work was needed, one that would protect the business owner`s margins and yet help reinforce customer loyalty.

Welcome to e2e - eat2earn

Next Generation Online Food Ordering Systems

e2e offers a fairer system for everyone who uses it and creates a win/win solution for both business owners and their customers, through the introduction of cashback incentives that are applied automatically.

Free apps are exchanged on a daily basis - just look at how Pokemon Go spread a few years ago. And if real benefits were added, that will further add to its appeal.

By encouraging takeaways and customers to share e2e through the offer of reward points - points that can be used when ordering or simply exchanged for money - a larger group of consumers will be drawn to the network and order from participating establishments.

This also means customers can determine their own level of `discount` simply by sharing with more people so takeaways won`t have to.

e2e was created by people in the takeaway food industry to help others in the takeaway food industry.

We`re already helping takeaway owners in the north-east, north-west, the Midlands, Wales and will be expanding into other major cities very soon.

Drop by our stand (1762) to see how we can help you too.




07903036677