STAND NUMBER: 1860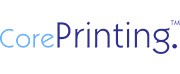 Core Printing
We strive to make print not only cost-effective but better than ever before. At Core Printing we our passionate about print and design and the difference it can make to our customers.

The products we offer are a large part of the foundation that makes Core Printing, by offering such a varied range of printed products in a great choose of different paper stocks.

Advertising and marketing are powerful tools when it comes to `spreading the word`, building and strengthening.
0844 884 5383